In 2014, Twitter changed its user interface, and added a few new visual elements, including a header photo. This post will explain how to add a header photo, using examples and a video.
The header photo is different from the small profile photo, which is usually a headshot or icon. When you are looking at the profile of a Twitter account, the header photo appears as a banner situated behind your profile photo. Here's an example: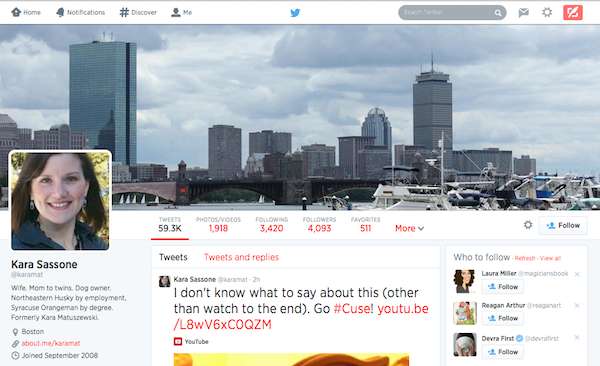 The header image is the picture of the Boston skyline. Before 2014, Twitter did not use header photos, so if you have an older account you may need to add one. If you have a new account, you will be asked to add one as well. Here's a video that explains how to do it:

Note that you only should use photos that you own or have purchased the license for.
If you're interested in learning more about how to customize your Twitter profile, I have several sections that explain how to do it in Twitter In 30 Minutes. Download or purchase your copy today in ebook or paperback formats.