The following article about following people on Twitter was excerpted from Twitter In 30 Minutes, by author Ian Lamont. 
So you've signed up for Twitter, reserved your Twitter handle, set up a profile, and are ready to seize Twitter by the beak. This requires tweeting (described in Chapter 4), but you also want to see what other people are tweeting about and sharing on Twitter.
To see other people's tweets, you'll need to start following people. If you don't, Twitter will seem empty and boring, and you will quickly lose interest.
As described earlier in this guide, Twitter encourages new users to follow celebrity accounts. Twitter also urges users to upload their address books, and will try to match the email addresses of friends and other contacts with existing Twitter accounts.
But what if you want to follow a Twitter account after you have registered? The following sections explain how.
Once you are registered for Twitter and have logged in, clicking on another person's Twitter handle will reveal that person's Twitter profile. Each profile contains a Follow button. Click it to follow the account. Once you do that, that person's tweets will start appearing in your home timeline.
Below is an example of @marty_walsh, the Twitter profile of Boston's mayor. You can visit his profile by typing twitter.com/marty_walsh into the address bar of your browser. The Follow button is located below the description: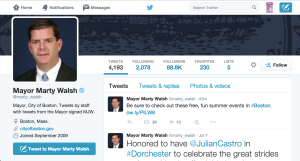 If you click the button, all the recent tweets created by Mayor Walsh and his staff will start showing up in your home timeline. Your home timeline consists of tweets from all of the Twitter accounts you follow. The more accounts you follow, the more tweets you will see in your timeline.
If you are using the Twitter app on your mobile device, tapping the handle of a Twitter user will reveal his or her profile. Click the Follow button (look for the silhouette icon with a plus symbol) to start following them: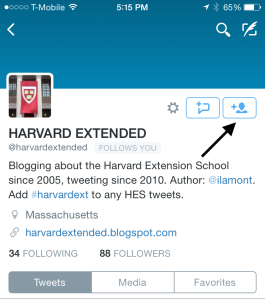 Alternately, you can use the Twitter app's search feature to find specific accounts to follow:
At the top of the screen, you will see an icon that looks like a magnifying glass. Tap it to open the search feature.
In the field provided, type the account name of the person or organization you want to follow.
The names of likely accounts will start to automatically populate the search field.
Once you have found the right account, click the Follow button.
This article was excerpted from Twitter In 30 Minutes, by author Ian Lamont. Download or purchase the book here.