Twitter has confirmed that it is experimenting with mixing up the home timeline. In other words, instead of showing tweets in reverse chronological order, the algorithm is pushing selected tweets to the top of the Twitter timeline, presumably because they have higher levels of engagement or other positive qualities. Facebook has a similar process in place, which highlights popular photos, posts, and links in the News Feed.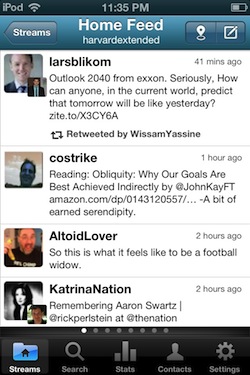 This should not come as a surprise. Using the classic "reverse chron" setup, people checking their timelines at certain times during the day are guaranteed to see whatever ordinary tweets happen to be broadcast by followers. If you check it late at night, it's basically crickets. Highlighting popular tweets make sense, and certainly helps keep users who otherwise might say "what's the point?"
What I fear, however, is that more ads will be crammed into the Twitter timeline, or people who don't get a chance to tweet that often will be shoved to the bottom of the timeline when they do.
Note that this is only an experiment. It may not be released to the entire Twitter universe, or it may be changed in some way.